About the Global Studies Program
Curation of Learning: The Global Studies ePortfolio
"Curating is translating the artists' visual or conceptual languages into a language, which is comprehensible for the public. In the last years, the artistic media and languages became more and more multifaceted and so should the translations. We are entering a Tower of Babel's era!" ~Silvia Gaetti, Curator at the Ethnological Museum Berlin
The Global Studies Program implemented several years ago the use of electronic portfolios as assessment tool and each major is expected to build their own. ePortfolios allow learners to stay attuned to their learning progress and document academic and non-academic learning experiences to reflect upon and also to be shared with Global Studies peers and advisors, as well as with future employers and graduate school review committees.
The Global Studies ePortfolio project is called Curation of Learning, and uses Weebly as web platform. Weebly is a versatile tool that provides each user the ability to create an entire professionally unique website, and includes a powerful blogging function. In addition, the platform works seamlessly with your social media accounts and offers you endless opportunities to tell your own global studies story digitally.
Explore the Curation of Learning Weebly sites from our alumni:
Brian Sweeney '15
http://brianfsweeney.weebly.com/
Kelley Garland '16
http://kelleygarland.weebly.com/
Grace Twardy '16
http://gracetwardy.weebly.com/
Susan Willis '16
http://williss.weebly.com/
Global Studies Student-Peer Mentorship
The Global Studies Peer Mentorship Program is an official way of bringing underclassman under the guidance and encouragement of an upperclassman in the Global Studies Department. The program provides academic, extracurricular and personal support for freshmen and newly declared GST majors as they embark on their college journey. The mission of the program is to be reciprocal, inclusionary and compassionate. Mentors are not guides, but advocates for the students and their needs.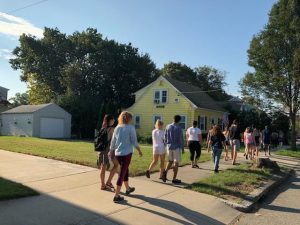 Global Studies mentors recognize how challenging freshmen year can be and are committed to be a listening and supportive presence in the mentees' first year on campus and on. Mentors are genuinely interested in learning about their mentees' expectations and aspirations, and support them in achieving their goals. In return, mentors gain important leadership skills transferable to professional environments and foster friendships.
The Peer Mentorship Program is a group effort that supports individuals in their development as leaders who can serve as agents of change within the Global Studies community and the greater communities.